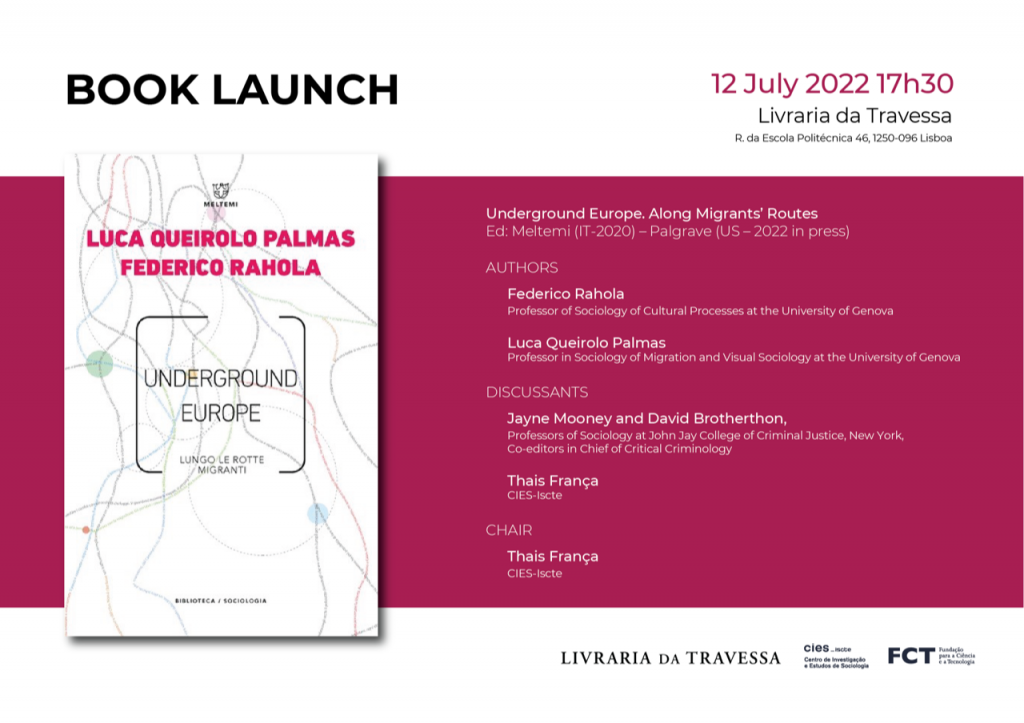 Luca Queirolo Palmas and Federico Rahola will present their latest work in Lisboa, July 12, 2022, at 5:30 p.m.; at the Livraria da Travessa. They will discuss with Jayne Mooney and David Brotherton – professors of Sociology at the Jay College of Criminal Justice in New York and editors in chief of the journal Critical Criminology.
Chairing the meeting will be Thais França, Fellow Researcher at the Center for Research and Studies in Sociology (CIES-Iscte) at Lisbon University Institute (Iscte-IUL), Portugal.
Luca Queirolo Palmas e Federico Rahola presenteranno il loro ultimo lavoro a Lisbona, il 12 luglio 2022, alle 17.30, presso la Livraria da Travessa. Con loro diiscuteranno Jayne Mooney e David Brotherton, professori di Sociologia al Jay College of Criminal Justice di New York e direttori della rivista Critical Criminology.
A presiedere l'incontro sarà Thais França, Fellow Researcher presso il Centro di ricerca e studi di sociologia (CIES-Iscte) dell'Istituto universitario di Lisbona (Iscte-IUL), Portogallo.