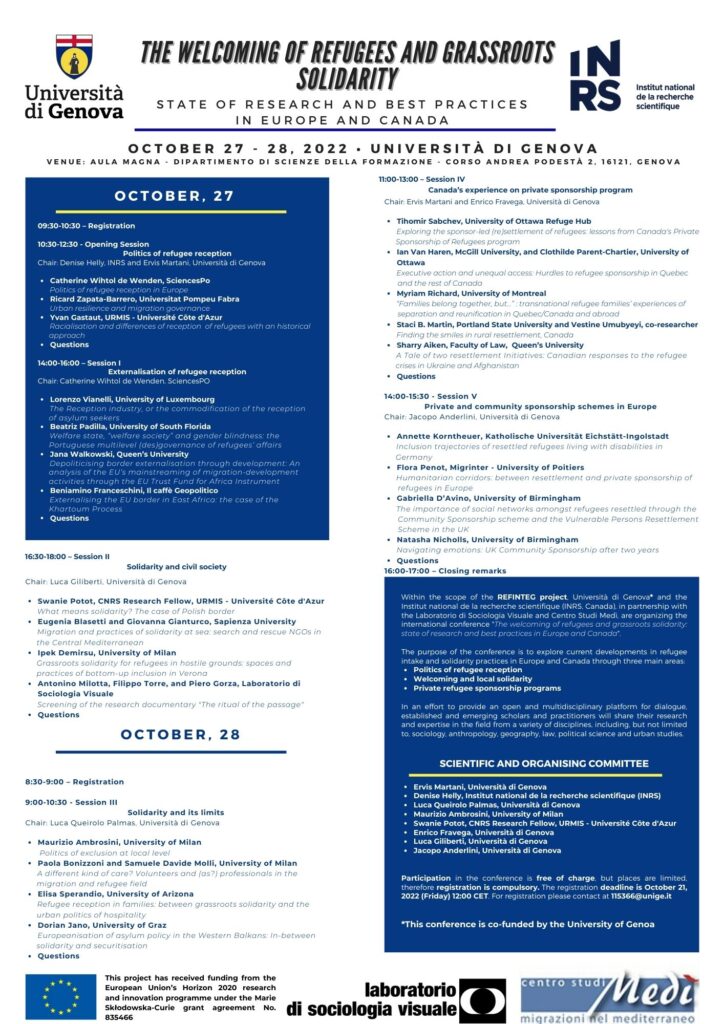 The University of Genoa and the "Institut national de la recherche scientifique" (INRS, Canada), in partnership with "Laboratorio di Sociologia Visuale" and "Centro Studi Medì", are organizing the international conference
"THE WELCOMING OF REFUGEES AND GRASSROOTS SOLIDARITY: STATE OF RESEARCH AND BEST PRACTICES IN EUROPE AND CANADA".
The purpose of the conference is to explore current developments in refugee intake and solidarity practices in Europe and Canada through three main areas:
– Politics of refugee reception
– Welcoming and local solidarity
– Private refugee sponsorship programs
In an effort to provide an open and multidisciplinary platform for dialogue, established and emerging scholars and practitioners will share their research and expertise in the field from a variety of disciplines, including, but not limited to, sociology, anthropology, geography, law, political science and urban studies.
Participation in the conference is free of charge, but places are limited, therefore registration is compulsory.
The REGISTRATION DEADLINE is OCTOBER 21, 2022 (Friday) 12:00 CET.
For registration, please contact us by email at: 115366@unige.it
*** Online participation will be possible only upon request. ***