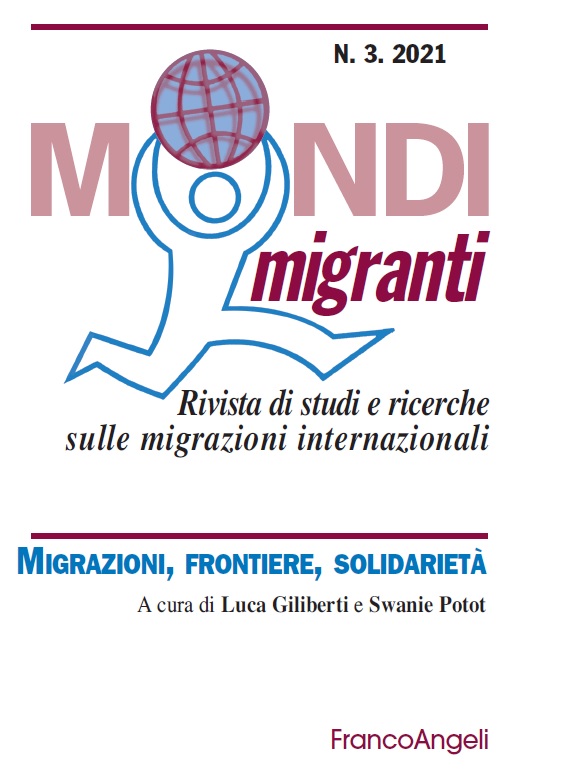 Mondi Migranti, 3/2021 – Migrazioni, frontiere, solidarietà (editors: Luca Giliberti, Swanie Potot) –
https://www.francoangeli.it/Riviste/Sommario.aspx?IDRivista=149

Nella contemporanea "crisi dell'accoglienza" il supporto dal basso ai migranti in transito, in particolare nei luoghi di blocco come i nodi di confine, assume un ruolo centrale in relazione alla mobilità verso e all'interno dell'Europa. La
parola "solidarietà" – concetto fondativo delle scienze sociali ma poco esplorato negli ultimi decenni – diviene oggi nozione di riferimento nella vita quotidiana delle borderlands europee, oltreché di un'emergente letteratura scientifica che prende forma all'interno degli studi migratori. Questo numero monografico della rivista Mondi Migranti, con contributi in italiano e in francese che analizzano tali pratiche su diversi nodi di confine in Europa, intende partecipare all'incipiente articolazione di nuove prospettive di ricerca su migrazioni e frontiere attraverso le lenti della solidarietà.
In the contemporary "reception crisis", grassroots support for migrants in transit, especially in blocking sites such as border nodes, assumes a crucial role in relation to mobility towards, and within Europe. The word "solidarity" – is a founding concept in the social sciences, yet scarcely explored in recent decades, now becomes a reference notion in the daily life of European borderlands, as well for an emerging scientific literature taking shape within migration studies. This special issue of the journal Mondi Migranti, containing contributions both in Italian and in French, focuses on such practices in different border nodes across Europe, meaning to participate in the incipient articulation of new research perspectives on migration and borders through the lens of solidarity.

Indice:
Usages et mésusages de la notion de solidarité en contexte migratoire. (Jocelyne Streiff-Fénart)
Verso i solidarity studies. Nuove prospettive di ricerca su migrazioni e
frontiere. (Luca Giliberti, Swanie Potot)
Sui confini della rotta balcanica: pratiche di solidarietà ai migranti e
processi di criminalizzazione. (Graziella Marturano)
Sanctuary cities in Francia? L'accoglienza dei migranti nel Paese basco.
(Annalisa Lendaro, Thomas Sommer-Houdeville)
La solidarietà in frontiera: le reti di supporto ai migranti in transito in Val
di Susa. (Luca Giliberti, Davide Filippi
Féministes et quêteuses d'asile : une lutte commune ? Une enquête dans les
Alpes-Maritimes (Pinar Selek)
La criminalisation du sauvetage dans la mer Égée. Le cas de l'ONG PROEM-AID. (Juan Pablo Aris Escarcena)
border studies, migrations, solidarietà, solidarity, solidarity studies